Ceramic Pin Grid Array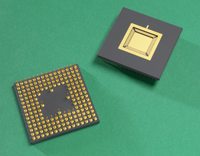 Unit: Inches
Ceramic Pin Grid Array Packages offer high I/O signal carrying capacity, excellent electrical performance and high thermal heat dissipation, with minimum package size.
Multilayer Ceramic Package
Footprint Compatible with PPGA
Through Hole or Socket Mount
Variety of Body Sizes
Gold Plated Pins brazed in a matrix pattern
Solder, Glass or Epoxy Seal
Cavity Up or Cavity Down Configurations
Not finding what you want? Please contact us as our published and non-published list of materials is dynamic and changes daily.