Ceramic SOIC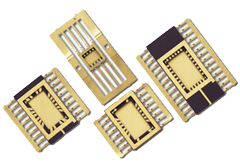 Unit: Inches
The SOIC is ideal for applications that require dense placement of chips on boards.
Multilayer Ceramic Package
Surface Mount with .050" lead spacing
Comparable Foot Print as Plastic SOP
Solder, Glass or Epoxy Seal
Gull Wing Lead Configuration
Gold Plated Leads
Not finding what you want? Please contact us as our published and non-published list of materials is dynamic and changes daily.