ESD Protective Packaging
ESD protective packaging provides a cost effective method for shipping, storage, kitting, and handling of semiconductors and other electronic devices. We have available hundreds of packaging solutions for immediate delivery to meet your large or small quantity requirements.
Use the INQUIRY form to request a quote or information on your specific needs.
Anti-Static Tubes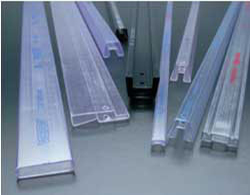 Clear anti-static and conductive tubes provide ESD Protection while maintaining a very low cost of packaging to product ratio. Tubes are typically 20" long, although custom lengths are available. These are used for DIP, PLCC, SOIC, SOJ, SOP, LCC, SSOP, TSSOP, and TO packages. Coordinating pins, plugs, and tube stuffers are also available.
JEDEC Matrix Trays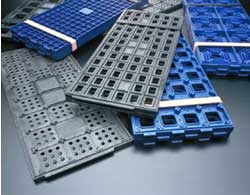 JEDEC Matrix Trays are injection molded trays for MQFP and TQFP devices. Available in both high and low temperature versions, we offer both new and recyclable trays.
Vacuum Formed Trays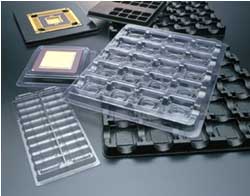 Vacuum formed trays for active and passive devices are made of conductive styrene or clear anti-static PETG. The benefit is low cost tooling and quick turn-around times.