Flat Pack/QFP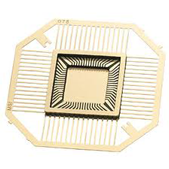 Unit: Inches
Flat Packs have small body outlines, are lightweight and usually have leads on two sides of the package parallel to the seating plane. Quad Flat Packs (QFP's) have leads on all four sides of the ceramic body.
Hermetically sealed
Surface Mount or Socket Applications
Flat Packs typically found in 8-28 lead counts
Quad Flat Packs typically have leads greater than 24
Lead spacing, depending on the package, is .015, .020, .025 and .050 inches. 
Not finding what you want? Please contact us as our published and non-published list of materials is dynamic and changes daily.