J-Bend Leaded Chip Carrier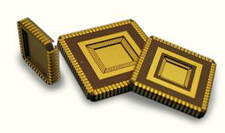 Unit: Inches
The J-Bend Leaded Chip Carrier (CQFJ) is an ideal package in high heat dissipation applications. The leads allow the package to expand and contract during heating and cooling cycles without placing undue stress on the package to PCB connection.
Multilayer Ceramic Package
Excellent electrical performance and thermal management
Footprint Compatible with LCC and PLCC
Surface Mount or Socket Applications
Gold Plated Leads
Solder, Glass or Epoxy Seal
Not finding what you want? Please contact us as our published and non-published list of materials is dynamic and changes daily.