Leadless Chip Carrier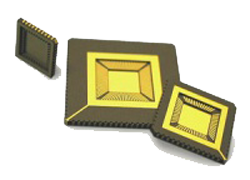 Unit: Inches
Leadless Chip Carriers are ideal for surface mount applications.
Low Profile, Multilayer Ceramic Package
Footprint Compatible with CQJB and PLCC
Variety of Body Sizes
Solder, Glass, or Epoxy Seal
Castellations Instead External Leads
Socket or Surface Mount Package
Lead Plating: Gold or Solder Dip
Not finding what you want? Please contact us as our published and non-published list of materials is dynamic and changes daily.