Ceramic Substrates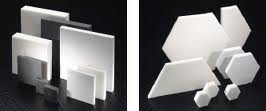 Thin-film ceramic substrates provide the finest possible surface from the highest purity materials as the base for high technology applications.
Thick-film substrates are inexpensive, yet durable and reliable and use roll-compaction to meet the performance requirements for basic electronic circuit paths and other electronic applications.
Aluminum Nitride ceramic substrates (ALN) are thermally conductive and especially effective at high heat dissipation. They optimize performance for LED and other high heat applications, and are an excellent, non-toxic alternative to Beryllium Oxide (BeO) substrates.
Substrates are available in a variety of sizes, shapes and thickness. Use the INQUIRY form to request a quote or information on your specific needs.